Valhalla S-Tool Collection -50% (automated on Check Out)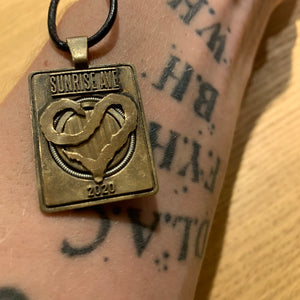 Valhalla Tribe
Valhalla Roundwound Sunrise Avenue
Sale price Price 129.00 € Regular price
Broken strings
Rocking too loud? BAM and the strings are broken and thrown into the trash. Not anymore, here at Valhalla Tribe we take care of the rockers' broken instruments and turn them into beautiful and meaningful jewelry.
From rockers to rockers!
Buy now and look good
Here you find all of our collections and accessories. Support the artist´s charity or cause and order now. Scroll down to see the artists and bands who have joined the Tribe.
Shop
KOTITEOLLISUUS
Kotiteollisuus is a Finnish hard rock/heavy metal band that was formed in 1991 in Lappeenranta. The band released its first demo tape in 1993 under the name "Hullu ukko ja Kotiteollisuus" ("Crazy Old Man and Home Industry"). The shortened name and current line-up were established in 1997. Kotiteollisuus is said to combine "furious heavy metal with Finnish sullenness". Subjects frequently touched upon in songs are the current state of the nation, religion and mankind in general. The band members have become known for their outspokenness during interviews and shows. The guitarist-vocalist Jouni Hynynen is especially known for insulting and commenting on the audience during live shows.
Current line-up:
Jouni Hynynen guitar, lead vocals
Janne Hongisto bass guitar
Jari Sinkkonen drums
Miitri Aaltonen rhythm guitar, backing vocals
Collection
S-TOOL
S-TOOL was formed in 2015. Compared to Laihiala's previous projects, S-TOOL is more straight-forward and more metal, but you can surely recognize Laihiala's signature writing style, by bringing the melodies in metal.
The band consists of Ville Laihiala, guitarist Sami Leppikangas and bass player Kimmo Hiltunen (LULLACRY), and drummer Aksu Hanttu (ENTWINE).
S-Tool is now on indefinite hiatus. All remaining jewellery stocks from our website is -50% as long as stocks lasts. Discount is automated.
Collection
HAPPORADIO
Formed in 2001, Happoradio is one of Finland's most popular contemporary rock bands. After seven studio albums, tons of hit songs, and numerous gigs at clubs and festivals, Happoradio sounds as good as ever.
Their most recent album Kauniin kääntöpiiri was released 2017. With a new bandmember, keyboardist Klaus Suominen joining their ranks, Happoradio introduces more airy and timeless synth sounds to their music.
Current line-up:
Aki Tykki: Lead Vocal
AH Haapasalo: Guitar, Backing Vocals
Jatu Motti: Bass Guitar
Markku DeFrost: Drums
Klaus Suominen: Keyboards
Collection
Marko Hietala
Marko Hietala is a Finnish heavy metal vocalist, bass guitarist and songwriter. Internationally, he is most known as the current bass guitarist, male vocalist and secondary composer to Tuomas Holopainen of the symphonic metal band Nightwish. He is also the vocalist and bassist as well as composer and lyricist for the heavy metal band Tarot.
Nightwish (2002-2021)
Tarot (1986-present)
Northern Kings (2007-present)
Sinergy (2000-2002)
Collection
Sunrise Avenue
Sunrise Avenue is a Finnish rock band originally formed in 2002 in Helsinki, Finland. In the early days the band was called Sunrise and the name was changed to Sunrise Avenue in 2003. Their style varies from rock and pop-rock to rock ballads.
Current Line-Up:
Samu Haber - vocals, guitar
Ilkka "Raul" Ruutu - bass, background vocals
Sami Osala - drums
Riku Rajamaa - lead guitar
Osmo Ikonen - Keyboards, background vocals
Collection
Flat Earth
Based in Helsinki, Finland, FLAT EARTH is "anything but your run-of-the-mill 'supergroup,". The fearsome foursome is an ideal amalgamation of love for music, every bandmember's unique skillset and battle-tested charisma, completed with a dynamic of a band that has been playing together for aeons.
Mika "Gas Lipstick" Karppinen - Drums
Mikko "Linde" Lindström - Guitar
Niclas Etelävuori - Bass
Anttoni "Anthony" Pikkarainen - Vocals
Collection
Lasten Hautausmaa
Lasten Hautausmaa is an indie-rock-pop group from Kouvola, Finland. It was founded in the summer of 2013, and the band has since grown to have six members. Their sound is described as melancholic pop-rock, and the lyrics include elements of magical realism.
Kristiina Vaara - vocals
Tuomo Mannonen - vocals, guitar
Topi Teinilä - bass
Mikko Kärkkäinen - drums
Touko Arhosalo - guitar
Niko Saarinen - keyboards
WOLF
WOLF was originally formed back in 1995 and belongs to the earliest bands resurrecting and rejuvenating a traditional heavy metal sound during the 90's when ignorant folks pronounced heavy metal dead. Inspired by the likes of Iron Maiden, Metal Church, the NWOBHM, Mercyful Fate/King Diamond, Judas Priest, and classic speed metal from Canada to Germany, WOLF laid down the groundwork for what became a triumphant return of proper 80's influenced metal in the following years over the course of eight records.
WOLF released their eighth studio record titled "Feeding the Machine" 2020 on Century Media Records and keeps touring and releasing new records.
Niklas Stålvind - vocals and guitars
Simon Johansson - guitars
Pontus Egberg - bass guitar
Johan Koleberg - drums
Official website for more info, tours and merch: www.wolf.nu
Collection
Timo Rautiainen & Trio Niskalaukaus
Timo Rautiainen ja Trio Niskalaukaus (fin. "Timo Rautiainen and Trio Neckshot") is a heavy metal band from Finland, formed in 1997. The musical influence of the band ranges from Black Sabbath to more modern metal acts. Lyrically, the themes presented in their songs range from global issues (such as global warming, genocide, war and nuclear waste or nuclear weapon left loose) to personal tragedy (such as the death of a loved one, school bullying and suicide), typically in a dark and serious tone.
For more than 20 years, Rautiainen has made music in the Finnish language. However, they have also German spoken albums In Frostigen Tälern
("In Frozen Valleys") (2001), which was the first German album by a Finnish act and in 2004 the band released their second album in German, titled Hartes Land("Hard Land"). The albums in German basically consist of songs which had already been released in Finnish and later translated.

Current Line-Up:
Timo Rautiainen (Vocals, guitar)
Jarkko Petosalmi (Guitar)
Jari Huttunen (Guitar)
Nils Ursin (Bass)
Seppo Pohjolainen (Backing Vocals, Drums)
Join the Tribe #valhallatribe
Become a part of our community: use the hashtag #valhallatribe and get featured on our Instagram.